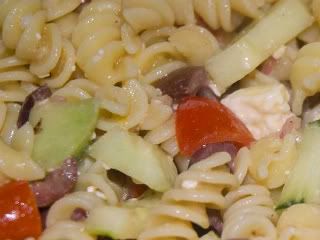 This recipe is adapted from a Cuisine at Home recipe for Greek Salad with Garlic Croutons. I decided to make it a pasta salad instead of using arugula and made a few other modifications to fit what I like and what I had on hand. This is a great dish to pre-make for snacks or lunches, since it gets better the longer it sits together, and also for taking to dinner parties or potlucks, since it makes A LOT.
To make it vegetarian, I left out the anchovy paste in the dressing from the original recipe so it's really more "fake Greek". This is also one of those recipes that, while there are (approximate, sort of) measurements in the recipe, it is better made "to taste". Add more of what you like or have! Leave out what you don't! Try adding pickled beets or red onion, use red-wine vinegar (or a little balsamic?), or fresh herbs. Make it yours!
Greek Pasta Salad
(adapted from Cuisine at Home)
FOR THE DRESSING:
1 C extra-virgin olive oil
3/4 C white-wine vinegar
2 1/2 Tbs finely chopped shallots
2 Tbs dijon mustard
1 Tbs kalamata olive brine
2 tsp dried oregano
freshly ground pepper & salt to taste
Mix together and set aside. Boil water for pasta.
1 pint grape tomatoes, quartered
1 large cucumber, seeds removed and chopped into bite-size pieces
half of one 8 oz. jar of PITTED kalamata olived, quaretered
(Note: Don't be like me. Make sure you get the pitted olives because standing there for 20 minutes fighting with olive pits isn't fun. And if you end up with the kind with pits, wear protective eye gear while smooshing out the pits).
8 oz crumbled feta
Prepare 1 box of rotini pasta according to directions on package. Rinse with cool water. Add vegetables and feta and slowly begin to pour over dressing, tossing salad gently. Allow to chill in refrigerator for at least an hour.