Happy 4th of July several days late! I've always really loved the 4th. Between the awesome picnic food, the swimming, the fireworks, and the fact that it heralds the coming of my birthday, Independence Day is definitely in my top 3 holidays.
This year I was away from Kyle but I got to be with some of my most favorite people ever and I had a really wonderful time. The fireworks show in downtown SH was particularly good this year and the weather was sunny and dry all day (although Florida heat and humidity can be really uncomfortable). Here is a picture of Tiffany, me, and Jason at the fireworks show. Not pictured are Tim and Merissa, but they were an integral part to the enjoyability of the day.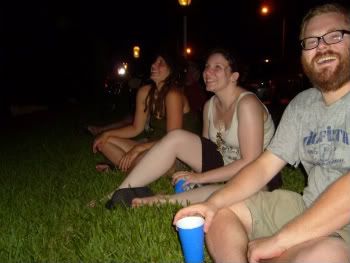 P.S. This is my 150th post on Burnt Pages! Woo!