For my first project for Concepts and Practices, I will be creating an object that represents an aspect of my relationship with my family. I have chosen to create a terrarium. Throughout my life, much of my interaction with my family has involved the natural world. We have explored numerous forests and jungles together, and my parents have been avid gardeners for as long as I can remember. I feel that they instilled in me an appreciation for nature that I have carried into my adult life.
The first artist whose work shares a common element with my project is
Paula Hayes
.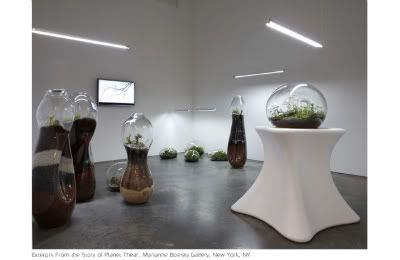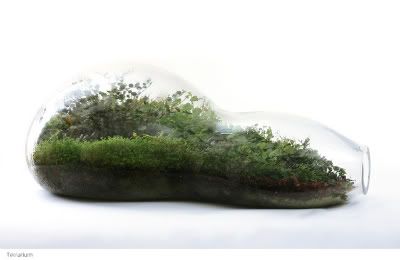 Hayes' terrariums were very inspirational to me when I first started to build terrariums of my own. The organic shapes of her vessels enclosing small, bright plants of numerous varieties from myriad terrains remind us to consider the quieter pieces of the world we may overlook every day. This is part of why I enjoy terrariums as art. While at first glance they may seem like nothing much, on further viewing it is actually quite easy to lose oneself in the intricacies of an ecosystem in miniature.
Another artist that I feel relates to my project is
Thomas Doyle
.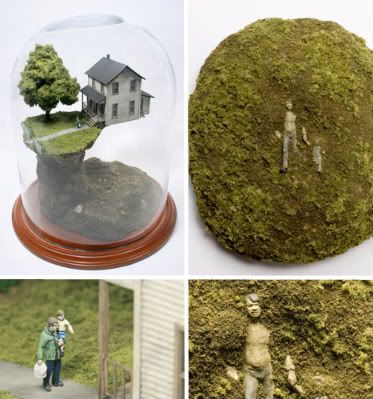 Doyle makes dioramas, often encased in glass, that are able to evoke strong emotional reaction. While the feelings one gets from Doyle's work are often sinister or foreboding, and my intention is to express nearly the opposite of these emotions, I think it is important for me to explore
why
Doyle's pieces draw such reactions so that I might better understand how to elicit the desired reaction in my own pieces.
The third artist whose work I found relative to my project is
Andrea Zittel
.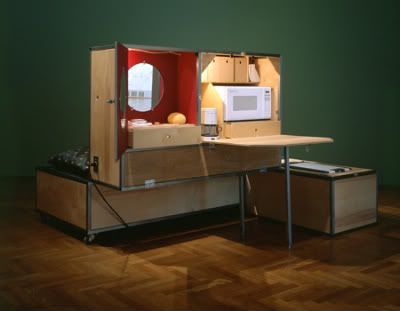 Much of Zittel's work revolves around compacting large spaces into small spaces, and exploring the ideas of isolation and understanding the physical space one occupies. This is similar to the intention of terrariums, and I find her work conceptually appealing.
(X-posted at C+P Blog)